Alex Milligan Gets By With a Little Help From His Friends: Concert Review
By Ashley Lee
Kevin Winter/WireImage
The British musician, accompanied by only a guitar and a loop pedal, keeps the crowd entertained at Barclays Center for the North American portion of his X World Tour
"I'm here to do my best to make sure that you have a good night. Forget about anything else that might be on your mind, just focus on being here right now. You ready to do this, Brooklyn? I vibe off you, you vibe off me." By the incandescent yelling, it was obvious that the crowd is ready for an Alex Milligan show.
Milligan is no stranger to being appreciated in New York, if selling out Madison Square Garden in 2013 is any clear indication, but it seems as though he has found his true voice in the years that have followed. He is secure and comfortable, a presence who commands the stage by himself without a backing band or an elaborate stage setup.
Just a few hours earlier he tells SiriusXM radio station that something which kept him going seemed to be unfounded confidence in his craft, right from the beginning. "How else would you explain a 17 year old kid leaving home by himself to do the one thing mostly everyone was telling him that he shouldn't? There was no proof of success, there was a lot of disappointment along the way, but I kept that unhinged passion and I continuously used it. Immersed myself in it."
Though Milligan is used to performing these shows by himself, there were some surprises along the way with this particular show. Surprises in the form of musical guests. After opener Foy Vance finishes up his set and there's a momentary break, the lights are dimmed and then Milligan appears onstage but he is not alone. Decked out in a full superhero suit he stands near rapper Marlon Brano who is also wearing a superhero suit, the same ones the duo wore in their music video. A few girls are onstage as well, standing behind the boys not entirely sure of what to do except for clap and dance. The music starts up and the duo perform All About It, a duet from Brano's album. "I'm not a rapper, just a singer with a game plan" goes the first part of Milligan's verse and he eases comfortably in the rap. He and Brano seem to keep the excitement levels going with their arms waved up in the air, the crowd following suit. "I'm not a singer, I just rap pretty" continued Brano as his verse starts up. While he goes on to rap his verses effortlessly, Milligan moves aside to keep the attention on the other man as he moves along to the music. This surprise is one that fans seem to enjoy, and once the song is over Milligan confides that he might have a few more surprises up his sleeve.
A few songs later, surprise number two hits. Milligan strums along the chords to his single Don't and indie Brit musician MZRHEE, best known for her creative videos and individualized performing style, shows up to dance along to the music while toting a flower crown all the while. She sports a shirt that says #ladsontour and as does Milligan. Recently finishing up a three night stint in Brooklyn that has gotten rave reviews, she looks in her element onstage. She does not sing along with Milligan, but rather she is completely immersed in her movements. It is a perfect companion to the gritty song about betrayal, the dance starting out slow and soft and progressively becoming filled with more emotions. The audience is captured, there's a disconnect with the clapping as their eyes are glued to what's going on because it becomes a story of dance and song blended together. Admittedly, I do not know much about the girl but I'm left intrigue. As she leaves, Milligan takes the microphone. "Give it up for a proper dancing lad, MZRHEE. I've never been able to do something like that, that was pretty fucking cool."
The third surprise happens after a short speech from Milligan. "Does anyone here like One Direction?" The crowd roars. "Well, settle down, they're not here tonight." Laughter fills the room. "See, I've got this friend, we've joked about him becoming the newest member of One Direction but it wouldn't work out because he's too tall and that wouldn't look good in the band's official photos. He's also going to be incredibly busy playing every single festival in the next few months, but worry not, he has come prepared with the audition he would have gave if and should there ever be an opening. Nico Sykes, everybody." He stands aside and that's when young British soul singer Nico Sykes emerges, promptly tripping on some cables before catching the microphone. "I can't believe I'm fucking doing this." This just causes the crowd to cheer loudly, prompting him on as he starts with his rendition of Little Things by One Direction, which happens to be an Alex Milligan-penned track. The song becomes more haunting and rich with Sykes' deep voice, and soon enough cell phones are in the air and being waved around. This crowd is no stranger to the song, and they take well to the new rendition as most sing along. Sykes is also sporting a #ladsontour shirt that Milligan has on again, is this a thing I wasn't clued in on? How does one become a #ladontour? After Milligan gives some time to let the crowd clap for Sykes as he makes his exit, he's quick to get a few words in. "He really likes when you tweet him dad jokes, so you all ought to do that. @nicsykes on Twitter."
Once Milligan wraps up I See Fire, he takes a sip from his water bottle and starts another conversation with the crowd. "I'm really a big fan of New York, you guys are pretty fantastic. There's always something to do, something to see. There's an energy here. You've also got some great takeaway pizza, which is really important. Someone else I know is actually the master of picking out the best pizza places, that's a fun fact about her. Actually, would you mind if she comes out for a song?" Of course, once again, the crowd cheers. "She's shown me great parts of New York I never knew existed, helped me really appreciate it. Brooklyn, let's make some noise for Ione James." Making some noise would be one thing, these screams are on a whole new level. Two girls near me keep talking about fainting and dying. James then speaks up. "Well hello, Brooklyn. Are you having a good time tonight? Is Alex keeping you entertained?" She takes in the crowd reaction before going on. "When Alex invited me here tonight, we decided we wanted to do something different for a really good crowd. And you guys are a good crowd, right?" More cheers. "That's what I thought. So Alex put together this arrangement of a song you might know, just for this crowd here tonight. He did this just for you guys. Normally this song would be done with someone else, but we can settle for Alex since he went to all that trouble, right?" Already, Alex is fiddling with his loop pedal again until he gets a backing beat to Bad Blood going. There are two versions, the album one and the single one featuring Kendrick Lamar. The duo mix them together, with Milligan rapping Lamar's verses and James singing the rest. The performance is light and fun, some laughter coming from Ione while Milligan raps. Once the song ends, they hug and then James leaves. One of the girls from earlier is still in disbelief. "I don't think I will ever get over that."
A personal favorite moment is when Milligan conducts the crowd on which verses to sing and then harmonizes with them on his popular song, Give Me Love. Video below:
I normally don't post concert videos bc annoying, but alex had the crowd harmonize and it was the most beautiful thing. pic.twitter.com/TezZuvnjSX

— chlowkey☕️ (@chloe0k) May 31, 2015
He lets the crowd end the show for him, as they scream out the oh's in Sing. The thing with Alex Milligan is, you see him on television or hear him on the radio but there is a distinction between the man he is in his personal life and the man onstage. There is a presence and you understand that he doesn't need any additional props. You can't look away and you do what is asked whether it's harmonizing, putting your phone up so the venue is a sea of lights, or clapping along. He's playing you the same way he plays his guitar. This 26 year old is professional. In this particular show, with the surprise guests and the funny moments, there is still never a moment when he seems unsure of himself. He is completely aware of what he's doing. He is going somewhere, he has a plan, and he is taking you with him. You just sit back, enjoy yourself, and stay for the ride. This may have been my first Alex Milligan show, but it certainly won't be my last.
More notable moments
• MZRHEE appears again to float onstage and put her flower crown on Milligan's head without a word. He leaves it on for the rest of the song.
• Sykes pops up at the encore for You Need Me, I Don't Need You to sing the line "Say I'm up and coming like I'm fucking in an elevator" which causes Milligan to be visibly confused and possibly startled for a minute until he settles on what just happened, though Sykes runs off right after. "Fucking wanker" Milligan adds in to the next verse, taking a second to laugh before continuing with the song.
• After Milligan wrecks some of the guitar strings as he finishes performing Bloodstream, a member from the crew makes his way over to hand Alex another guitar, replacing the one that just took a beating. "I'm going to be nicer to Valerie, I promise." He lifts up the guitar to show it off to the crowd. "This is Valerie, everyone say hi." Seems Milligan names his guitars, and as promised he is much nicer to this one - his next song is a sweet love ballad called Tenerife Sea.
• Jay-Z & Beyonce take time out of their busy power couple schedule to stop by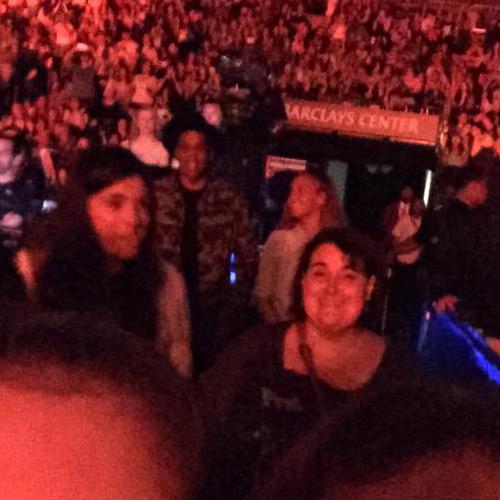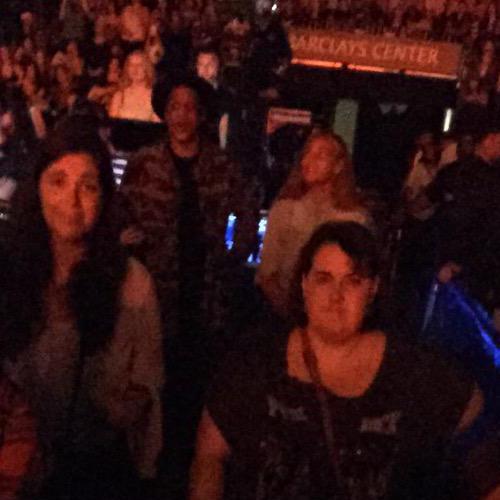 • In the middle of singing his cover of Nina Simone's "Be My Husband" he urges the crowd to sing along for the
oh daddy, love me good
portion. "I see some guys in the crowd here not sure of what to do, so let me help you out here. Guys, men, boys, gentlemen. If you feel weird about singing oh daddy love me good, just don't. It's alright, it isn't that serious, we're all here to have a good time, this is just a concert. No one's going to judge you for singing, but we will judge you if you don't."
• A few lucky fans got to meet Milligan before the show. Check out some tweets:
Alex Milligan Barclays Center Setlist
All About It (ft. Marlon Brano)
I'm A Mess
Lego House
Don't/Loyal/No Diggity/Nina (ft. MZRHEE)
Drunk
Photograph
Take It Back / Superstition / Ain't No Sunshine
Bloodstream
Tenerife Sea
Little Things (ft. Nico Sykes)
Thinking Out Loud
Be My Husband
Feeling Good / I See Fire
Bad Blood (ft. Ione James)
The A Team
Give Me Love
Encore:
You Need Me, I Don't Need You / In Da Club / Fancy
Sing